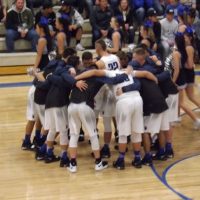 Two late free throws propelled the Carbon Dinos past the American Leadership Eagles 54-52 in the regular season finale Friday evening in Spanish Fork.
Entering the final game of the regular season with their playoff seeding set, the Dinos had little to play for the in the back and forth contest. The Patriots on the other hand were playing for a chance to clinch a spot in the 3A State Championship Tournament.
After jumping out to a 15-5 lead at the end of the first quarter, the Dinos were outscored by 14 in the second. Carbon responded to the four-point half time deficit by outscoring the Eagles 32-26 over the final two quarters.
Senior Ty Anderson led the way with a game-best 19 points to go along with five rebounds, four assists and four steals. Derek Hillam added 13 points and Collin Lewis chipped in with 12.
Wrapping up the Region 14 portion of the schedule with a record of 5-7, the Dinos will now enter the state tournament as the No. 5 seed from the division.
Waiting for Carbon is Morgan, the No. 1 seed from Region 13. The two teams will go toe-to-toe Saturday morning at Orem High School at 8:30 a.m.. Live coverage of the contest will begin at 8:00, followed by the live play by play call on KRPX 95.3 The Peak.