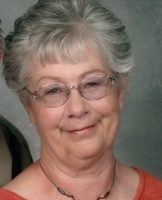 Carole Marian Giles was born on March 27, 1940 in Salt Lake City, Utah and passed away on March 7, 2019 in Price, Utah.
Carole is the daughter of Roy H. Fergusson and Marian C. Fergusson and has 6 siblings, Arlan Bivings (Robert), Diane Hatch (Larry), Kathy Tureson (Darryl), Robert Fergusson (Pam). Carole is preceded in death by her parents, her loving little brother, Roy Fergusson, sister, Jacqueline DeKoning (Richard).
Carole graduated from Carbon High School. She married Fay Eugene Giles on March 22, 1958 in Price, Utah. Their love and devotion has been inspiring throughout their life. They have four children, Becky Marshall (Mike), Nancy Basford (Jerry), Cheri Giles, Karen Crouch (Andy). They have 13 grandchildren and 19 great-grandchildren and several young ones that have adopted them as grandparents.
Carole was an ardent reader, artist with cross stitch, an incredible seamstress and volunteered many hours to teach others her skills. She was a positive light to all who knew her. She faced her fears and led our family with grace. She left her legacy of love to all that knew her. The moment she was convinced something was right she was ready to defend it with all her might. A woman who was already seasoned with years of defending those she felt were in need. Everyone that entered their home felt it as a safe haven. She inspires us to be better women.
The family would like to express their gratitude for the loving care she received while staying at Pinnacle Care Center. From those that clean her floors, serve her food, bring the snacks, offer her rides, inspire creativity with activities, the cooks, the PT, OT teams, Aids, CNA's, Nurses and Administration. She received professional care from a friendly staff that she could depend on. We feel they graced her dignity and enjoyed her personality. We also wish to thank the Symbii Hospice Team that kept mom comfortable. Their cheerful visits, expert advice and onsite care will always be remembered and appreciated by her family.
Funeral service, Monday, March 11, 2019, 1:00 p.m., Price Second Ward Chapel (449 North 100 East) in Price. Family will receive friends at the church Monday from 11:00-12:30 p.m. prior to service. Interment, Price City Cemetery, Price, Utah. Arrangements entrusted to Mitchell Funeral Home of Price where friends are always welcome daily and may share memories of Carole online at www.mitchellfuneralhome.net Funeral Home in Price, Utah.