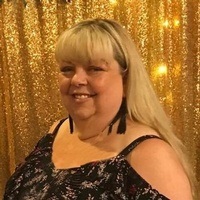 Kayla Margaret Merrill Hanna was born on June 23, 1950 at the old Carbon Hospital. She passed away on March 8, 2019 after a brief battle with pneumonia.
Kayla grew up in Hiawatha, Utah where her father and mother were the camp doctor and nurse. The camp hospital was attached to the house where she grew up so she saw a number of interesting patients through her childhood. Kayla married Jim Hanna in 1968 and they had three children, Shane, Lance and Chantel. They lived on Main Street in Helper before settling into a new house in the coves in Price. Kayla and Jim later divorced.
At a young age she enjoyed music, dancing of all types, traveling with family, and spending time with friends. Kayla had an Associate Degree from the College of Eastern Utah and a Bachelor of Science in Elementary Education from Utah State University. Kayla taught elementary school for many years throughout the Carbon School District and was passionate about providing education to her young students. She was a member of the Xi Alpha Zeta for over 30 years and enjoyed participating in their various events and activities as well as held numerous officer positions. Throughout her life, she loved to decorate and bring her personal touch to every corner of her home collecting treasures from different cultures. She enjoyed traveling and lounging at motels although she didn't travel much in her last years. She liked being taken on car rides in neighborhoods in Price and Salt Lake and would tell you the histories of the neighborhoods. She loved her kitties and granddogs. Over the last six years she enjoyed her greatest calling—being a grandmother to Cadence, her pride and joy, who will miss her immensely. She would often end her day with a video call to Cadence to catch up on the day's events.
Kayla is preceded in death by her father, Dr. Laville Hendrick Merrill, mother, Kathryn Kesler Dart Merrill, brother John Quinn Merrill and two half-brothers Dr. Duane Merrill and Owen Merrill. She is survived by her sister, Dr. Chloe Dee Merrill, son Shane LaVille Hanna, son Lance Marcel Hanna (partner Kristie S. Gilson), daughter Chantel Kay Hanna, and her granddaughter Cadence Serenity Hanna.
Funeral service Friday, March 15, 2019, 11:00 a.m., at Mitchell Funeral Home (233 East Main Street) in Price. Family will receive friends at Mitchell Funeral Home Thursday evening from 6:00-8:00 p.m. and Friday one hour prior to service. Interment will be at the Mt. View Cemetery in Helper, Utah.   Arrangements entrusted to Mitchell Funeral Home where friends are always welcome daily and may share memories of Kayla online at www.mitchellfuneralhome.net