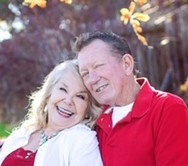 A woman of Devotion, Resilience and Legacy, stepped through the veil on March 11, 2019 into the eternal embrace of her children who have long awaited her return.
June was born on March 20, 1947 in Ogden, Utah to James and Mary Agnes Hold
Her story is one of an inspiring love which truly began the day she met her soulmate George. She was sent from heaven to change his life and that she did. Their hearts were promised to each other on February 3, 1962 in a
small church in Elko Nevada and later solemnized in the Salt Lake LDS Temple on June 8, 1971.
Together they built a home that would not only withstand heartbreak, but would become a place of safety, hope, laughter, love and honor to raise the 10 special spirits that were entrusted to them.
She has a special connection to her Heavenly Father and the light from him was reflected in everyone who truly knew her, especially the sweet souls on her bus.
Her free and creative spirit is proudly presented in the details of their home, the clothes she had sewn, meals she made and the way she saw the world through the eyes of a child during her travels. Her legacy will shine through in her children who embody the qualities that make her so irreplaceable.
June is survived by her eternal husband George, her children Lanna (Jeff), Jamie (Tobe), Amanda (Jeff), Cory (Jaylene), Prestan (Natalie), Crystal (Eric), Lacey (Austin), 21 grandchildren and 18 great grandchildren. She is also survived by a sister; Lawana (Gill) Love; Brother, Lee (Darlene) Hold.
June was preceded in death by her two children, Georgia and Try, her parents and siblings, David Holliman, Minnie and Kathy.
Funeral Services will be held Saturday, March 16, 2019 at 11:00 in the Elmo Ward Chapel, 199 East Main Street, Elmo, Utah. Friends may call at the Ward Chapel on Friday, March 15, 2019 from 6:00 – 8:00 pm and at the chapel
on Saturday from 9:30 – 10:45 am. Interment will be in the Elmo City Cemetery.
In lieu of flowers, we ask that you take a moment to hug your child, grandchild, loved one or friend. Be still for a moment, an hour or a day because time awaits no one.
Services are entrusted to Fausett Mortuary and family and friends may sign the online guestbook and share memories of June at www.fausettmortuary.com