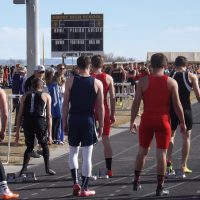 Emery High School played host to the 2019 Darrell Gardner Track and Field Invitational Tuesday afternoon, welcoming five other schools for the early season competition.
Recording close to 30 top-three finishes, the Emery boys team easily claimed first place with a final score count of 251. Richfield finished in a distant second with 115 points, followed by South Sevier at 75.5. Wayne, Pinnacle and Green River rounded out the field of the six.
Richfield earned the first place finish on the girl's side of the track after logging 251 total team points. Emery came in a distant second with 139 points, easily defeating third-place Wayne's 78 point effort. South Sevier, Green River and Pinnacle rounded out the team standings.
Emery junior Braiden Ivie delivered a show in front of the hometown crowd with wins in both the 100 and 200 meters. Ivie's 10.81 time in the 100 meters topped South Sevier junior Connor Peterson who finished in 11.92 seconds. The two finished at the top of the 200 meters board as well, Ivie taking the top spot with a time of 21.87 compared to Peterson's 24.34.
Senior Cale Allred took home first-place in two events, topping teammates Keldan Guymon and Mason Faimalo in the 300 meter hurdles with a time of 43.50. Allred later won the javelin with a metric throw of 48.84.
Treven Brazier was the third Emery Spartan to win first in two separate events. Finishing the 110 meter hurdles in 16.92 seconds, Brazier ended ahead of Faimalo and Allred. He later topped Faimalo and freshman Jace Curtis in the high jump.
Marquies Giroux expanded on his great performance at the Red Rock Invitational with a first place toss in the discus. Giroux later finished second to teammate Anthony Taylor in the shot put. Taylor's throw of 12.04 edged out teammates Giroux and Guymon's effort of 11.76 and 11.63 respectively.
Emery also received depth scoring from sophomore Bryar Meccariello who took second place in both the 400 and 1600 meters.
Carlie Bennett recorded one of three first-place finishes for the Lady Spartans after topping Wayne Freshman Kenna Stephenson in the 3200 meters. Bennett finished with a time of 15:22.71, compared to Stephenson's distant second finish at 15:44.88.
Freshman Addie Lester won the 400 meters with a swift time of 1:07.65, topping Richfield's Hadyn Black who ended in 1:10.02.
The third top performance came from McKenzie Cox in the discus with a metric throw of 28.14. Teammate Jaycee Bennett ended third in the event with a throw of 22.81.
After competing at two meets in the past four days, the Spartans will now receive a break in the action before returning to compete on March 23 at Carbon.
Click HERE for the complete results from Tuesday's competition:
| | |
| --- | --- |
| Team | Score |
| 1- Richfield | 251 |
| 2- Emery | 139 |
| 3- Wayne | 78 |
| 4- South Sevier | 65 |
| 5- Green River | 28 |
| 6- Pinnacle | 19 |
| | |
| --- | --- |
| Team | Score |
| 1- Emery | 251 |
| 2- Richfield | 115 |
| 3- South Sevier | 75.5 |
| 4- Wayne | 60 |
| 5- Pinnacle | 57 |
| 6- Green River | 10 |