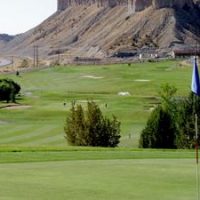 The Carbon Lady Dinos continued the golf season with a second place finish Tuesday afternoon at the Mountain view Golf Course in West Jordan.
Entering the second meet of the year with an eight-stroke lead overall, the Lady Dinos finished with a team score of 396, six strokes behind Providence Hall. Delta's 430 was good enough for third, followed by Juab in fourth with 448. Union and Maeser rounded out the field of six.
"Every girl played better and we scored better as a team," said head coach Kenji Otani. "What can I say when we lose playing better than last week? Providence just played better than us today."
Junior Jordan Bianco fired a team best 91, followed by Aubrey Fausett with a 99. Sam King gave the team's third score at 100, while both Kirsten Etzel and Jessica Hansen tied with a 106.
Despite falling short of a first place finish the Lady Dinos still maintain a two-stroke advantage at the top of the leaderboard. Last week Carbon topped Providence Hall by eight strokes at Sleepy Ridge, the home site for Maeser Prep.
Carbon is scheduled to participate in one more meet this week with the Uintah Invitational. The competition will not count towards the final region stroke play.
Below are the current region standings following the second week of league play:
| | | | |
| --- | --- | --- | --- |
| Team | Week 1 | Week 2 | Total Strokes |
| 1- Carbon | 406 | 396 | 802 |
| 2- Providence Hall | 414 | 390 | 804 |
| 3- Juab | 525 | 448 | 973 |
| 4- Union | 516 | 459 | 975 |
| 5- Delta | XXX | 430 | —- |
| 6- Maeser Prep | XXX | 639 | —- |