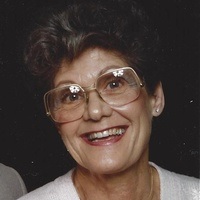 Our loving and beloved sister, aunt, wife, mother, grandmother, and great-grandmother, Helen Elaine Liapis Maxfield passed away peacefully in her sleep on April 4, 2019. In the end, Helen decided that her fate was in the hands of the Lord and went peacefully into His embrace.
Helen was born October 12, 1928 in Mohrland, Utah, one of the new coal mining camps in Carbon County. She was the third daughter and youngest child of six born to Paul H. and Faye "Foto" Liapis. Helen married the love of her life, Neil Maxfield, in 1950. After 45 years as constant companions, Neil Maxfield passed away in 1995. Helen's life was never the same after his passing.
Helen was preceded in death by her parents, Paul and Faye Liapis, her sister, Dorothy, and her brothers, George, Harry, and Pete. She is survived by her sister Sylvia Platis, her children Steven (Marion), Daneil (Lynn), and Pauline (Michael), nine grandchildren, and five great-grandchildren.
Helen "Yia Yia" was loved by her family and had an amazing ability to make friends wherever she went. In her home, you always had something to eat and were included in conversation. Helen's family, the Greek Orthodox faith, Carbon County roots, and Greek heritage were the most important elements of her life.
Much gratitude is expressed to the professionals that cared for and treated her at the Ridge Cottonwood and Life Care Center in Salt Lake City, to the clergy at the Greek Orthodox Church, to her friends and family, and especially to her dearest friend, Dorothy Lopez.
Funeral services will be held Friday, April 12, 2019, 11:00 a.m. at the Assumption Greek Orthodox Church (61 South 200 East) in Price, Utah. Trisagion service, Thursday evening 7:00 p.m., at Mitchell Funeral Home. Family will receive friends at Mitchell Funeral Home Thursday and Friday one hour prior to services. Interment will follow at Price City Cemetery. Arrangements entrusted to Mitchell Funeral Home of Price where friends are always welcome daily and may share memories of Helen online at www.mitchellfuneralhome.net
"May Her Memory Be Eternal"