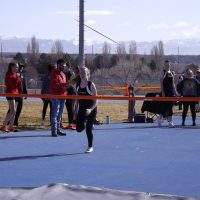 The Emery Spartans continued the track and field season with a trip to Manti for the Temple View State Qualifier Friday afternoon.
Competing against 15 other schools the Emery boy's team ended second overall with 91 points, falling short of first-place Grand's 130. Richfield came in third with 67, followed by Manti in fourth with 51.
The Lady Spartans finished 14th overall after accumulating just nine points during the meet. North Summit finished at the top with 128, followed by Richfield in second with 87.5. Millard and Carbon tied for third at 57 points, while San Juan and Grand ended tied for fifth with 50.
Cale Allred gave Emery one of it's two first-place finishes by topping teammate Keldan Guymon with a throw of 52.25. Guymon finished a distant second with a throw of 44.35.
Junior Anthony Taylor provided the other top finish with a discus throw of 36.73. Second place went to Manti's Jason Henningson, followed by Grand's Jarom Shumway.
Guymon logged a third-place finish in the 300 meter hurdles, while teammate Treven Brazier also ended third in the 110 meter hurdles. Sophomore Bryar Meccariello was also third in the 1600 meters.
The Emery sprint medley team consisting of Braxton Young, Adam Jackson, Chase Christiansen and Jess Christiansen finished second with a time of 2:55.33. San Juan edged the Spartans for first with an ending time of 2:52.13.
On the girl's side of the track Junior McKenzie Cox gave Emery their top performance with a third-place finish in the discus.
The team will continue the season on Friday with a trip to Richfield. Only four meets remain in the season before the state championship meet on May 17 and 18 at Brigham Young University.