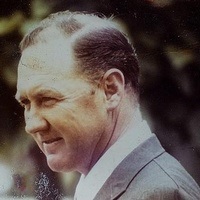 Joseph Johnson left this earthly life on April 4, 2019.
He was born March 4, 1934 to Armond Buriah and Blanch Adelia Edwards Johnson in Huntington, Utah. He attended North Emery High School where he played basketball, developing a lifelong love for the sport, and was student body president. He married Edna Sue Sitterud on December 16, 1955 in the Manti, Utah Temple. They were blessed with seven children, Kimball Edward (Dianne) Johnson of Fountain Green, Utah, Carri Sue (David) Cozzens of Moab, Utah, Jay Armond (Debbie) Johnson of Cedar City, Utah, Karlene (Anthony) Garcia of Grand Junction, Colorado, Lee Bruce Johnson (Deceased), Carma Pauline (Polly) Combe of Idaho Falls, Idaho, and Dalen Lee (Tiffany) Johnson of Huntington, Utah. He is survived by six children, twenty-nine grandchildren, and fifty-four great grandchildren; a brother, Danny Lee (Marie) Johnson and two sisters, Decarma (Fred) Allred and Claudia Pauline Wilson. He was preceded in death by his parents, a brother, Bruce Armond Johnson, brother-in-law, Lloyd Gene Wilson, and a son, Lee Bruce Johnson.
Edward had a great love for the outdoors. In March of 1963 he moved his family to Moab, Utah to pursue a life-long dream of working for the US Forest Service. He was an active member of the Church of Jesus Christ of Latter-day Saints, serving in a wide variety of callings which included elders quorum president, high priest group leader, high councilor, stake presidency, and he served as bishop of the Moab 4th ward twice. He loved the youth of the Church and had a great faith in their abilities, calling young women to serve as ward organists and choristers and young men to rotate playing the piano and leading the music in priesthood meetings. He also loved coaching the young men's basketball team. He spent many of his Moab years serving and working on the Church farm and orchard where he taught his kids and grandkids how to work hard and play hard.
In 1994 he retired and moved back to his hometown of Huntington, where he went to work for Genco Mining. He will be remembered by many in Huntington for his neighborly service, including his community backhoe service to neighbors and friends. He was a faithful home teacher. He loved farming, gardening, and spending time at the family cabin on the mountain. He loved having his family around. When it was time to leave, he would stand in the driveway, not letting them go until they could tell him when they would be back. He loved attending his grandchildren's sporting events and working alongside them. He had a great sense of humor and was a master at sarcasm. He was so loved by his family and we treasure the memories he left us with.
Funeral services will be held Friday, April 12, Huntington Stake Center (240 North Main Street) at 11:00 AM with a viewing beginning at 9:00 AM.   Interment will be in the Huntington City Cemetery immediately following funeral services.