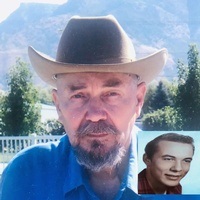 William Potter, age 77, returned to his Heavenly Father on Thursday, April 4, 2019.
Bill was born in Huntington, Utah to James and Della (McElprang) Potter on October 18, 1941.
Bill married Frances Urbanik on September 23, 1961 in Dragerton. Their marriage was later solemnized in the Manti Temple. She preceded him in death on November 9, 2007.
Bill was a soft spoken man, slow to anger, quick to tease or tell a joke and typically wore black and sported an impressive mustache. He was curious about how things worked, loved exploring the desert and decorating for Halloween – year round! He was a man of faith and diligently fulfilled callings or assignments as a member of the Church of Jesus Christ of Latter-day Saints, even when they took him out of his comfort zone. Most of all, Bill was a devoted companion to his wife Frances and a loving, steady, playful father and grandfather. In the end, as he suffered from the advancing effects of dementia, he was an example of trusting God, and enduring life's trials as pleasantly as possible.
Bill is survived by his children Belinda (Craig) Ensign, St. George, Paul (Misty) Potter, Layton, Mark (Holly) Potter, Kaysville; sisters Diana (Bruce) Ware, Cleveland, Bonnie (Neil) Frandsen, Price; brothers-in-law and sisters-in-law, Judy Potter, George (Mary) Urbanik, Vicki Urbanik, Teresa (Chuck) Hayman, John (Barbara) Urbanik, Christina (Howard) Webb and Andy (Tina) Urbanik; and twelve loving grandchildren.
Preceded in death by his loving wife Fran Potter, parents, brother Mack Potter; and brother-in-law, Joe Urbanik.
Funeral services, Friday, April 12, 2019, 11:00 a.m. at the Price North Stake Center (449 North 100 East). Family will receive friends at the stake center Thursday evening from 6:00-7:00 p.m. and Friday one hour prior to services. Interment, Cliffview Cemetery. Arrangements entrusted to Mitchell Funeral Home where friends are always welcome daily and may share memories of Bill online at www.mitchellfuneralhome.net.