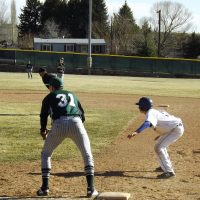 Unable to bounce back from a home loss on Tuesday, the Carbon Dinos suffered a season-series sweep at the hands of the Union Cougars with a 15-6 loss Thursday afternoon in Roosevelt.
Trailing 1-0 entering the third inning, Carbon surrendered eight runs, leading to an insurmountable deficit. Union continued to pile it on with two more runs in the fourth, before Carbon finally scored in the fifth.
While the offense was held to just five hits, Carbon's defense committed seven errors. The fielding mistakes led to 14 unearned runs for the Cougars.
Senior Braxton Bennett was pegged with the loss on the hill, despite a statistically pleasing performance. Bennett pitched 2.2 innings, allowing just two hits and no earned runs. Collin Lewis worked 3.1 innings in relief, giving up five hits and one earned run.
Nathan Richens provided a bright spot for Carbon as he finished 1-2 at the plate with one double and three RBIs. The double from Richens went down as the only extra base hit for the Dinos in the set back.
Thursday's loss moves Carbon to 6-2 in division play, which places them third overall. Juab remains at the top of the standings still undefeated, while Union is now locked with the Dinos in the loss column at two.
Carbon will now take a break from Region 14 play with a home game Saturday against Summit Academy. The Dinos will then travel to Emery on Monday, before resuming league action on April 23 against Juab.