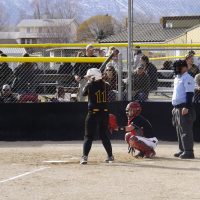 In a game that was originally scheduled for March, the Emery Spartans suffered a Region 15 loss to the South Sevier Rams in Monroe on Thursday. The Rams built a 4-0 lead in the first half of the game, and in the end the Spartan rally came up short 6-4.
Emery was relatively quiet in the early going not scoring until the top of the sixth inning when they scored one run bringing the tally to 4-1. They would go on to give up two more runs in the bottom of the sixth, while adding only two runs in the top of the seventh.
Sophomore Taleigh Price and senior Ambree Bennett would add offense with two hits in four at bats scoring one run and one RBI each. AdriAnne Childs and Kaejha Johnson would add one run each to complete the scoring for Emery.
Defensively Senior Bailey Huggard was handed the loss on the mound going five innings allowing four hits, giving up six runs (four earned) and striking out four. Sophomore Kaylee Price would come in for one inning allowing one hit and striking out two.
This is now the second region loss in the month of April for the Spartans. They sit at 4-5 in Region 15 play which puts them in fourth place. With two games against first place Manti (14-3 overall and 6-1 in region), and one more with South Sevier (7-8 overall and 2-5 in region) on the schedule, Emery will need to find a few more victories headed into the post-season.
The Spartans will be off next week due to the Spring Break Holiday. They will play again on Tuesday, April 23 in Castle Dale, where they will face Manti in the first of two games against the Templars in that week.