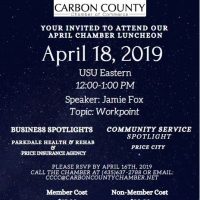 The Carbon County Chamber of Commerce would like to invite individuals to their April Luncheon on Thursday, April 18 at 12:00 pm till 1:00 pm at the campus of USU Eastern inside the Jennifer Leavitt Student Center.
The cost to attend is $15.00 per member and $20.00 non-members, keep in mind that any no-shows will be billed.  The luncheon will be catered by the USU Eastern Dining Services.
Guest speaker will be Jamie Fox who will speak about Workpoint.
There will be two businesses featured for the Business Spotlights, Parkdale Health & Rehabilitation and Price Insurance Agency.
Community Service Spotlight is on Price City.
Must RSVP for the luncheon by Tuesday, April 16 by contacting the chamber office at (435) 637-2788.