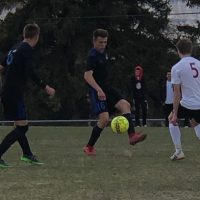 By: Daryn Mason, Castle Country Radio Sports
The Carbon Dinos lost to the American Leadership Academy Eagles 3-1 in a Region 14 game Friday afternoon in Price.
"The first half went well, the second half we lacked in remedy," stated Carbon senior Parker Humes. "They wanted it more and they started playing really scrappy. We played a lot of defense and weren't able to convert."
Looking for their third region win, the Dino's held a 1-0 lead at the break as Luis Estudillo found the back of the net.
American Leadership responded by scoring all three second half goals, two of which were penalty kicks as Joseph Valle recorded the hat trick for the Eagles.
Friday's loss takes Carbon to 3-10-3 overall on the season and 2-6-3 in Region 14 play. Etched comfortably in fifth-place in the division, the Dinos will return to the field on Saturday to face the Union Cougars in Roosevelt.
Below are the current Region 14 standings entering spring break:
| | | |
| --- | --- | --- |
| Team | Region | Overall |
| 1- American Leadership | 9-0 | 11-1-0 |
| 2- Delta | 6-4 | 8-6-0 |
| 3- Providence Hall | 6-3 | 7-3-0 |
| 4- Maeser Prep | 5-3 | 5-3-1 |
| 5- Carbon | 2-6-2 | 3-10-1 |
| 6- Juab | 0-6-3 | 0-6-3 |
| 7- Union | 0-6-3 | 0-9-3 |