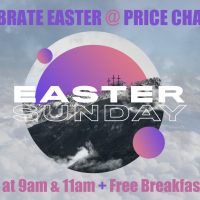 It's Easter weekend and some families have a tradition to attend church services with their family. Price Chapel is thrilled to offer a Good Friday Community Worship Gathering and two Easter Sunday services.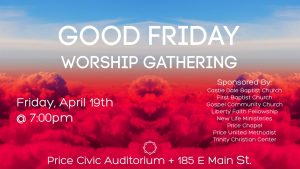 "On Good Friday, which is Friday, April 19, we're doing a community-wide worship event at the Price Civic Auditorium at 7:00 pm and we have eight churches actually coming together to sponsor this event, which is really exciting to have that many churches come together to do this," said Price Chapel's Lead Pastor, Steve Swinburne. "Four years ago, we started moving towards doing these Good Friday gatherings together and last year we had six churches involved and we did it at the Event Center, we had about 350 people show up and so this year hopefully it'll be even bigger and better."  The Price Civic Auditorium is located at 185 East Main Street. The free program is open to all members within the community and is being sponsored by Castle Dale Baptist Church, First Baptist Church, Gospel Community Church, Liberty Faith Fellowship, New Life Ministries, Price Chapel, Price United Methodist Church and Trinity Christian Center.
On Easter Sunday the Price Chapel will offer two opportunities for parishioners to attend their Easter services. "We have two different worship gathering times so at 9:00 am and 11:00 am is the exact same service – so what ever one is more convenient for you. It's a time where we sing songs, I'll share a message and we also have a great kids program at our 11:00 am service for infants through fifth grade and then in between the services, you can hit on either side of the 9:00 am or the 11:00 am, we have a free breakfast at 10:00 am," explained Pastor Swinburne. The free breakfast will be prepared by the Price Chapel Men's Ministry group and will consist of eggs, pancakes, bacon and a beverage.
Individuals who are unable to attend the Good Friday or Easter Sunday Services are welcomed to attend regular worship services. "We meet on Sunday mornings at 10:30 am and also if you're just interested in checking us out, you can go to our website at http://pricechapel.org/, we also have a mobile app, just search Price Chapel on your app store, you can download that and listen to messages on there," said Pastor Swinburne.  Price Chapel warmly welcomes people from all walks of life, regardless of where they are on their journey with God.
To learn more about Price Chapel visit their website at http://pricechapel.org/ or visit their Facebook page.