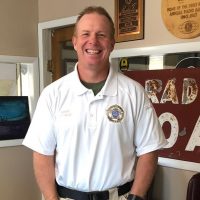 The Carbon County Sheriff's Office along with various law enforcement agencies are planning to conduct an active shooter drill at 9:00 am on Thursday, April 18 at Carbon High School. Residents in the area should be aware that there will be a variety of emergency response vehicles on and near campus.
"This one we chose a time when the kids are out on spring break, there will be some high school kids involved in our training but it's more focused towards the interagency operations and the ability to communicate with radios and things – we want to work on our tactics this time. We've already done the one where we educated the kids on what to do, we based it off the run, hide, fight premise, but we want to work on our tactics," said Sheriff Jeff Wood. Law enforcement noticed with the last active shooter drill that there was room for improvement to the training and procedures. It is vital that law enforcement and emergency personnel have a flawless plan if this were to ever be a real-life scenario.
There will definitely be a large response effort and community members are asked to avoid the area if possible. "So, if you see a lot of hub-bub at the high school on Thursday, it'll start at 9:00 am, we should be done with the actual drill by noon and we will have it all debriefed and be out of there. So, don't panic, it's a planned training exercise," said Sheriff Wood. Other officials that will be participating are EMS, Fire Department and Castleview Hospital.
With Easter weekend right around the corner Sheriff Jeff Wood wanted to remind community members to be safe this Easter weekend, "Please be safe out there. Make sure that your kiddos are wearing helmets. Make sure your machines are safe and they are in good repair and they're not trying to override the machine. Make sure you're being safe and have fun, enjoy the time but don't have a downer by getting someone hurt or someone accidentally getting hurt it ruins the whole trip." Law enforcement will be out patrolling various areas thought out the holiday weekend.
To stay informed on the Carbon County Sheriff's Office, visit their Facebook page.