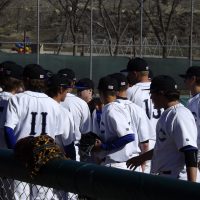 A second meeting between the Emery Spartans and Carbon Dinos ended in similar fashion as Carbon secured a 5-1 victory in an elimination contest in the 3A State Championship Tournament at Juan Diego High School Thursday afternoon.
Emery managed to draw first blood, taking a 1-0 lead in the second inning. From that point on the Dinos gained complete control, scoring five unanswered runs over the next two frames to earn the victory.
Nathan Richens earned the win on the mound for Carbon, throwing a complete-game gem. Allowing just six hits throughout the contest, Richens allowed one earned run and six hits, while striking out seven in the process.
Freshman Keaton Rich led the Dinos offensively finishing 2-3 with one double and three RBIs. Jon Zamantakis ended 1-3 with one RBI. As a team Carbon recorded six total hits and one walk.
Emery senior Cade Brazier was pegged with the loss, despite a solid effort on the bump. Brazier pitched all six innings for Emery, allowing just two earned runs and six hits, while striking out two against 28 total batters.
Senior Rance Jensen ended 3-3 with one RBI to lead Emery in the season ending defeat. Kason Stilson, Bron Gordon and Koda Alton all logged one hit as the Spartans finished with six.
Errors plagued Emery once again as the team committed six, which allowed Carbon to take advantage in the middle innings. The Dinos also pulled away late in the mid-season meeting, walking away with an 11-3 win in April.
Thursday's win moves Carbon along in the one-loss bracket, keeping the team's championship hopes alive. Up next will be a meeting with Judge Memorial, the No. 1 seed from Region 13, Thursday night at 7:00 p.m..
Stay tuned to Castle Country Radio for continued coverage of the 2019 3A State Championship Tournament.