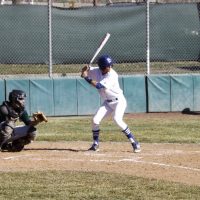 Freshman Keaton Rich delivered a four-hit gem from the mound as the Carbon Dinos defeated the Judge Memorial Bulldogs 6-0 in the 3A State Championship Tournament Thursday night at Kearns High School.
Faced with their second elimination contest of the day, the Dinos passed with flying colors on both sides of the field. The win moves Carbon into a third elimination contest Friday afternoon against the Manti Templars.
Making the most out of his first varsity tournament start, Rich allowed just four hits, while striking out six batters in the complete game effort. Giving up just three walks in the contest, Rich faced 28 batters as waltzed past the Region 13 champions.
While Rich kept the Bulldogs off balance throughout, the Carbon offense offered plenty of run support. After being shutout in the first inning, the Dinos scored at least one run in the five frames.
Senior Collin Lewis ended 2-3 with two singles and two RBIs in the victory. Fellow senior Anthony Jones finished 1-3 with one RBI. Rich and Cooper Schade brought in one run as the Dinos finished with six total RBIs on seven hits.
Thursday night's win comes just hours after the Dinos eliminated the Emery Spartans at Juan Diego High School. Senior Nathan Richens also gave Carbon a complete game effort, meaning the team used just two pitchers to advance past Thursday's action.
Carbon will now return to the field Friday afternoon to meet the Manti Templars, who suffered a loss to the Summit Academy Bears in the quarterfinals Thursday afternoon.
A win for Carbon would place them in the 7:00 game against either Union or Juab. A loss would ultimately end the season.
Friday afternoon's game is scheduled to take place at Kearns High School at 1:30 p.m.. Live coverage will begin on KOAL 107.3 FM and 750 AM at 1:00. The contest will also air live at castlecountryradio.com.
Click HERE to view the current 3A Championship Tournament bracket.