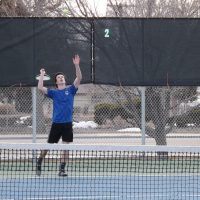 Nine Carbon High School tennis players participated in the opening round of the 3A State Championship Tournament Thursday afternoon at Liberty Park in Salt Lake City.
Senior Carson Martines, who entered as the No. 5 seed from Region 14, suffered a straight set loss to Judge Memorial's Luke Pearson, the No. 1 seed from Region 13. Pearson claimed a 6-0 victory in the first set and closed the match out with a 6-1 win in the second set.
Senior Jack Christensen fell to North Sanpete's Russell Madsen in straight sets. Madsen, the No. 3 seed from Region 15, won the first set 6-0 and fended off a game Christensen for a 6-2 win in the second set.
Sophomore Preston Condie put together a competitive afternoon of tennis, despite falling to North Sanpete senior Liam Rawlinson in three sets. Condie earned a 6-3 win in the first set, before dropping the next two 6-2 and 6-2.
Bonham Brewer and Keenan Hatch represented the Dinos in the doubles bracket, going toe-to-toe with Morgan's Seth Hadley and Carter Thackeray. A highly competitive first set ended in Hadley and Thackeray's favor 7-5. The Morgan duo finished off the match in the following set with a 6-1 victory.
Jake Livingston and Leonard Livingston also participated in the doubles competition for Carbon. The two suffered a straight sets loss (7-6, 6-4) to South Sevier's Heston Ott and Brayden Staples.
View the complete 3A State Tennis bracket HERE.