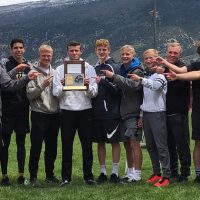 The Emery Spartans boy's track and field squad claimed the Region 15 championship with a stellar performance at the division finale Wednesday afternoon in Manti.
Spanning over a two-day period, Emery topped the field with 157 total points. Grand finished behind in second at 144, followed by North Sanpete in third with 101. Manti and Richfield rounded out the top five, while South Sevier and San Juan completed the field of seven.
Junior Braiden Ivie continued to dazzle at the regional final, taking home first place in both the 100 and 200 meters. Finishing the 100 with a time of 10.81, Ivie easily defeated second place Eli Hazlet of Grand's time of 11.43. Ivie later defeated San Juan's Kian Conway in the 200 with a time of 21.63.
Ivie joined forces with Treven Brazier, Jace Curtis and Bryar Meccariello to finish first in the sprint medley relay with a time of 3:50.00. Brazier, Ivie, Curtis and Keldan Guymon gave Emery another solid relay finish in the 4X400 as the team finished second with a time of 3:29.04.
Meccariello added to his first place resume as he finished at the top of the 3200 meters, recording a time of 10:21.55. He also delivered a second place nod in the 800 meters with a time of 2:05.45.
Cale Allred and Keldan Guymon finished first and second respectively in the javelin. Allred's metric throw of 44.50 was just enough to top his teammate's 43.56. The two later finished second and third in the 300 meter hurdles as Guymon ended second with a time of 41.78, followed by Allred's 41.92.
The Emery Lady Spartans ended seventh overall as the team gather 40 points. Richfield won the region championship with 165.5 points, outpointing Manti's 117.5. Grand finished in third, followed by San Juan. South Sevier and North Sanpete completed the field in fifth and sixth.
Freshman Tambrie Tuttle gave the Lady Spartans their highest individual finish as she claimed second place in the high jump with a metric leap of 1.47. Fellow freshman teammate Whitley Christensen ended right behind in third.
Emery will now turn their focus to the 3A State Championship meet, which will take place Friday May 17 and Saturday May 18 at Brigham Young University in Provo.
Below is the complete list of state qualifiers for the Emery Spartans:
Boys:
Cale Allred- Javelin, 300 meter hurdles
Treven Brazier- 110 meter hurdles
Jess Christiansen- 3200 meters
Jace Curtis- 400 meters
Mason Faimalo- 110 meter hurdles, high jump
Marquies Giroux- Discus
Keldan Guymon- 400 meters, 300 meter hurdles, javelin
Braiden Ivie- 100 meters, 200 meters
Bryar Meccariello- 800 meters, 1600 meters, 3200 meters
Anthony Taylor- Discus
4X100 Relay (Chase Christiansen, Jess Christiansen, Josh Olsen, Cale Allred)
4X400 Relay (Treven Brazier, Keldan Guymon, Jace Curtis, Braiden Ivie)
Medley Relay (Jace Curtis, Treven Brazier, Braiden Ivie, Bryar Meccariello)
Girls:
Whitley Christensen- High Jump
McKenzie Cox- Discus
Megan Jensen- Javelin
Bethany Justice- 300 meter hurdles
Tambrie Tuttle- High Jump