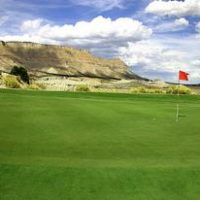 The golf season came to an end for the Emery Lady Spartans as the team failed to make the cut for the second day of action at the 3A State Championship Tournament Tuesday afternoon at the Round Valley Golf Course in Morgan.
Qualifying as the fourth-place team from Region 15, the Lady Spartans ended with a team score of 426, falling 13-strokes short of the cut line. The finishing score places Emery 10th overall at the season ending tournament.
Sydney Alton led the Lady Spartans with an individual score of 100, topping teammate Angela Nielsen by two strokes. Kayla Winn finished with a 106, while Madisyn Mann registered the fourth score with a 118.
The round of golf brings an end to a season that was filled with ups and downs for the young Emery team. Playing in one of the most difficult regions in the state, Emery went back and forth between third and fourth place throughout the season.
Fellow region opponent Richfield claimed the state championship in dominating fashion, ending the two day event with a team score of 632. Morgan finished second with a 738, followed by Grand's 752.
Below are the complete final scores for the 3A State Tournament:
| | | | |
| --- | --- | --- | --- |
| Team | Day One | Day Two | Final |
| 1- Richfield | 316 | 316 | 632 |
| 2- Morgan | 371 | 367 | 738 |
| 3- Grand | 361 | 391 | 752 |
| 4- Providence Hall | 385 | 371 | 756 |
| 5- Carbon | 391 | 370 | 761 |
| 6- Judge Memorial | 405 | 392 | 797 |
| 7- Union | 404 | 408 | 812 |
| 8- Manti | 413 | 433 | 846 |
| 9- Grantsville | 413 | 408 | 821 |
| 10- Emery | 426 | XXX | 426 |
| 11- South Sevier | 453 | XXX | 453 |
| 12- Juab | 455 | XXX | 455 |