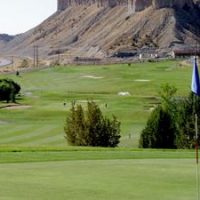 The Carbon Lady Dinos completed the 2019 golf season with a fifth-place finish at the 3A State Championship Tournament Wednesday afternoon in Morgan.
Entering the second and final day of competition in fifth-place, Carbon shaved 21-strokes off of their first day score. Despite the improved play, the team only managed to make up one stroke on fourth-place Providence Hall.
"Mother Nature was not kind on day one, and we had a hard time finding it," said head coach Kenji Otani. "But, we redeemed ourselves a little on day two. The girls gave it their all and that is all I can ask for."
Firing a 391 in the first day of competition, Carbon recovered with a 370 in day-two. Jordan Bianco led Carbon once again, this time shooting a team-low 83. Sam King and Aubrey Fausett both logged a 93, while Jessica Hansen ended with a 101.
Richfield easily claimed the state title after shooting an outstanding 632, topping second place Morgan's 738. Grand and Providence Hall followed in third and fourth.
Bianco's two-day total of 174 placed her in a three-way tie for sixth. After shooting a 91 on Tuesday, Bianco erased eight-strokes on Wednesday for one of the best rounds of the weekend. The performance places Bianco as a First Team All State member.
King finished tied for 16th individually, while Fausett tied for 20th. The two performances were enough to place both girls on the Second Team All-State squad.
While the accolades on the golf course stacked up for Carbon, the team also received recognition for their work in the classroom. As a team the Lady Dinos earned the team grade-point-average award, finishing at the top academically.
"Sometimes we forget the student part of student-athlete," said Otani. "But it means a great deal to me personally. Again, I am very proud of my team."
Below are the complete final team results from the 3A State Tournament:
| | | | |
| --- | --- | --- | --- |
| Team | Day One | Day Two | Final |
| 1- Richfield | 316 | 316 | 632 |
| 2- Morgan | 371 | 367 | 738 |
| 3- Grand | 361 | 391 | 752 |
| 4- Providence Hall | 385 | 371 | 756 |
| 5- Carbon | 391 | 370 | 761 |
| 6- Judge Memorial | 405 | 392 | 797 |
| 7- Union | 404 | 408 | 812 |
| 8- Manti | 413 | 433 | 846 |
| 9- Grantsville | 413 | 408 | 821 |
| 10- Emery | 426 | XXX | 426 |
| 11- South Sevier | 453 | XXX | 453 |
| 12- Juab | 455 | XXX | 455 |