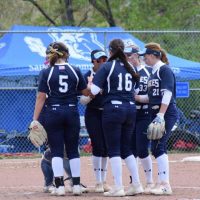 By Loren Miller, USU Eastern Sports Information:
Box Score 1: Box Score 2:
PRICE – Utah State Eastern split their first day at the 2019 Region XVIII Tournament on Wednesday in Taylorsville.
The Eagles opened the tournament with a 9-6 win over the Colorado Northwestern Spartans in a single-elimination game.
With the score 6-5 in the bottom of the sixth, the Eagles would rally with four runs to take the 9-6 lead.
USU Eastern's Jaiden Smith had an RBI single while Carlye Levy had a two RBI single in the rally in the bottom of the sixth.
Levy led the Eagles with three RBIs in the game while also picking up the win in the circle against the Spartans.
After the opening round game the Eagles lost to the number one seed and host team Salt Lake Community College 10-0 in five innings.
Salt Lake's Tarni Stepto threw a one-hitter against the Eagles with 11 strikeouts and two walks.
The lone hit for the Eagles came off the bat of Smith, who also had a stolen base against Salt Lake.
Wednesday's loss to the Bruins puts the Eagles in the loser's bracket of the tournament and will take on Snow College on Thursday.
First pitch of Thursday's game against Snow is scheduled for 1:30 p.m. in Taylorsville at Norma Carr Field.
The game will be broadcasted on the Scenic West Digital Network at scenicwestnetwork.com.
If the Eagles defeat Snow they will move on to the next round where they will take on the loser of Salt Lake and Snow College at 4 p.m.