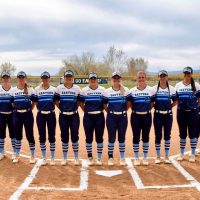 By Loren Miller, USU Eastern Sports Information:
PRICE — Utah State Eastern Softball lost to the Snow College Badgers 11-3 on Thursday in Taylorsville.
With the loss, the Eagles are eliminated from the postseason after picking up their second loss of the 2019 Region XVIII Tournament.
The Eagles opened up the game taking the lead in the first inning on a Carlye Levy RBI single.
Snow would respond in the bottom half of the first to even things up when the Badgers stole home.
The Badgers would build a 4-1 lead in the next few innings before blowing the game open with a three-run home run in bottom of the fifth to take a 7-1 lead.
In the top of the sixth the Eagles would cut the Badgers lead to four when Evelin Jackson hit a two-run homerun, her first of her career.
Multiple errors by the Eagles would allow Snow to add four more runs in the bottom of the sixth to end the game due to the eight-run rule.
The loss gives the Eagles a final 16-33 overall record in their third season as a program.
Thursday's loss also means the final game in a USU Eastern uniform for nine sophomores who have been with the program the past two season. Those sophomores are Avery Blackhurst, Ashley Sweat, Taylor Passarella, McKenzie Dorney, Whitnee Webster, McKenna Gubanich, Jaiden Smith, Rilee Stookey, and Carlye Levy.
The Eagles will begin their Fall 2019 scrimmage schedule in September with their 2020 regular season schedule beginning in the middle of February.