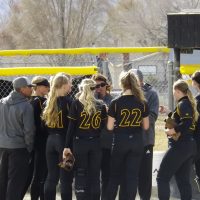 The Emery Lady Spartans completed the 2019 softball season by going 2-2 at the 3A State Tournament, including a 1-1 mark this past Friday afternoon in Spanish Fork.
Placed in an elimination contest after going 1-1 in Grantsville on May 4, the Lady Spartans advanced with a 6-2 victory over South Sevier Friday afternoon.
Braileigh Clark pitched a complete-game gem, allowing just four hits and two earned runs, while also striking out four.
The Emery offensive complimented the defense with an outstanding 11 hits, including four extra bases. The team managed to score four runs in the seven inning tilt.
Ambree Bennett ended 3-4 with three singles and one RBI. Autumn Stilson finished 2-3 with two singles and three RBIs. Cambrie Jensen also laced three hits, including a triple that lead to one RBI.
Immediately following the win over South Sevier, the Lady Spartans returned to the field where the season came to an end with an 11-1 loss to the Union Cougars.
Six errors plagued Emery in the six inning loss. Union scored at least two runs in five of the game's six frames, while Emery scored in just the first.
Madisyn Childs was hit with the loss on the mound. Allowing five hits and five earned runs over 2.1 innings of play, Childs struck out one batter and gave up two home runs. Kaylee Price and Kaejha Johnson each worked in relief.
Offensively the Lady Spartans accumulated just three hits. AdriAnne Childs laced a single to bring in the team's lone RBI. Madisyn Alton and Ambree Bennett each secure one single.
Friday's loss brings Emery's final season record to 14-14. Ending region play at 5-7, the team entered the state tournament as the No. 4 seed from Region 15.