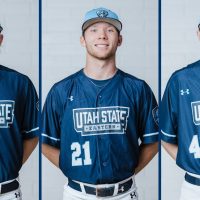 By Loren Miller, USU Eastern Sports Information:
PRICE – Three members of the Utah State Eastern Baseball team received All-Region Honorable Mention recognition on Thursday at the 2019 Region XVIII Tournament in Henderson.
Sophomore Ryan Curtis and freshmen Briggs Newman and Karter Pope each were named All-Region XVIII Honorable Mention for their play on the diamond this season.
Curtis led the Eagles in hits (35), doubles (11), RBIs (17), and home runs (3) while batting .302. He also had a team-high eight stolen bases in 2019.
With a team-high nine starts and 43.1 innings pitched, Pope was the only USU Eastern pitcher to receive All-Region honors on Thursday. Pope also finished his first season with the Eagles with a 1-5 record and a team-high 20 strikeouts.
Newman had a solid first season with the Eagles after batting .274 with 26 hits, four doubles, nine RBIs, and nine runs. On defense he was a mainstay in the infield with playing multiple positions and posting a .963 fielding percentage.
USU Eastern's season came to a close on Thursday as they were eliminated by Colorado Northwestern in a single-elimination game 10-2.
The Eagles will begin Fall practices and scrimmages in September with their 2020 season beginning next February.