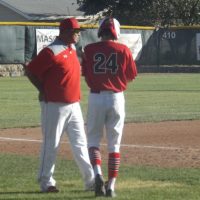 Tryouts for this year's Helper American Legion Baseball team will take place Wednesday, May 15 and again Thursday, May 16 at 6:00 PM at Ernie Gardner Field in Helper.
Carbon High School manager Jeff Cisneros will once again coach the Helper squad, which has been around for over 55-years.
Typically the legion team is made up of kids who are seasoned baseball players and have adequate high school experience. For that reason Cisneros will also field a team for kids 17 under and another that is 19 and under.
"We are going to run two baseball programs again this summer to try to give the kids in Carbon and Emery county a chance to get some baseball in," said Cisneros. "I'm excited to give the younger kids some more experience on the baseball field as well." Tryouts for the younger team will coincide with the American Legion session on May 15.
Players born in 2000 or 2001 must play in the Senior Legion Baseball program. Players born in 2007 and after are not eligible to play American Legion Baseball. Players born in 1999 or before are also no longer eligible.
Those seeking more information on tryouts or the upcoming season may contact Cisneros at 435-820-8379.