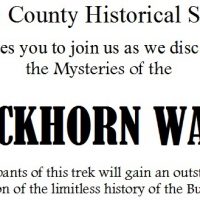 The Emery County Historical Society invites the community to discover the mysteries of the Buckhorn Wash on Saturday, May 18. Guests traveling from the south will meet at the Museum of San Rafael in Castle Dale at 9:30 am while those individuals coming from the north end of the county will meet at Buckhorn Wash at 10:00 am.
"Beginning our summer series of monthly history on the ground tours with a tour of Buckhorn Draw as I've always called it also known as Buckhorn Wash, neither name does justice to it really it's a major thousand-foot-deep canyon as people well know," Tour Guide, Edward Geary (GEAR-E). "We'll have about six or seven stops down there at each one kind of look at both the visible geology and the remains of historic events and people who have been there over the years. Participants of this trek will gain an outstanding realization of the limitless history of the Buckhorn from the Desert Archaic Culture to Robber's Roost Gang to the Cold War.
Part of the Cold War was the development of the Morrison Knudsen (MK) Tunnels in Buckhorn Wash which will be on the agenda for the day's tours. "In the early part of the Cold War this was in 1948 the big concern, of course, is what do we do in case of the nuclear attack. The Department of Defense was looking for safe places to put command operations and storage operations and one of those sites was in Buckhorn Draw where they drilled tunnels into the Navajo sandstone and put sensors in them and then detonated 300,000 tons of explosives on the surface to simulate a nuclear bomb," said Geary. Even though most of the tunnels in the area have been sealed, or gated off, the opportunity to take an excursion to this location is best with a group as the MK Tunnel Site is not well marked.
The Emery County Historical Society is a group of people who enjoy learning about history. Members of the group who meet once a month for a public meeting are some local historians or history buffs.  Most of the monthly meetings feature a guest that presents an aspect of history that is related to the Castle Country area.
The cost to attend monthly events/meeting is annual dues of $5.00 per person. Guests are encouraged to bring their own lunch, lawn chair, bug spray and plenty of water.