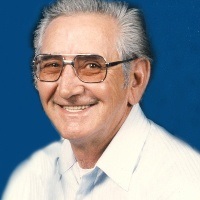 Our beloved husband, father, grandfather and brother, Angelo Nick Kouris, 86, passed away May 28, 2019 in Price.
He was born October 15, 1932 in Price, Utah to George and Faye Velasquez Kouris. On May 23, 1963 he married Helen Segura in Elko, Nevada.
Angelo honorably served his country in the US Army during Korea where he received the National Service Medal, Combat Infantry Badge, United Nations Service Medal and the Korean Service Medal with a Bronze Service Star. After returning from the service Angelo worked in various coal mines and oil fields in the area. He was a tireless worker who took great pride in his children and the passions which he shared with them. Angelo loved gardening, fishing, hunting and spending time with his loved ones. He will be sorely missed by all.
Survivors include his beloved wife of 55 years, Helen Kouris, Price; daughter, Terry Kouris, Phoenix, AZ; sons, Vincent Kouris, Colorado, Mike Kouris, David Kouris, both of Price; sister, Dorothy (Vern) Velasquez, Wyoming. Angelo was blessed with 23 grandchildren, numerous great-grandchildren and many loving nieces and nephews.
He was preceded in death by his parents, daughter, Juanita Taylor Withers; infant son, Nick; grandsons, Michael Kouris, James Kouris and Tony Taylor; and his brother, Gust Kouris.
Funeral service, Monday, June 3, 2019, 11:00 a.m., Mitchell Funeral Home where the family will receive friends one hour prior to services. Interment, Cliffview Cemetery with honors by The American Legion Post 3. Arrangements entrusted to Mitchell Funeral Home where friends are always welcome daily and may share memories of Angelo online at www.mitchellfuneralhome.net