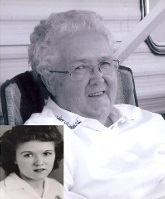 Gwenda L. Timothy Norton, age 91, laid her hands down for a rest and left this earth to start a new chapter in her life on May 28, 2019. Gwenda was born January 16, 1928 in Cleveland, Utah the daughter of Henry Timothy and Ora Perry Timothy.
Gwenda moved to Wellington in her teenage years, and this is where she met the love of her life Bruce D. Norton. They were married July 20, 1946 in Wellington, Utah; their marriage was later solemnized in the Manti Temple on March 26, 1965. They were sweethearts for 63 years.
Mom loved babies, little kids, small animals, flowers, camping, telling her poems, and singing around the campfire, arrowhead hunting with family and friends, cutting wood and pine poles with Chuck & Vaudis Crow. She loved helping with the Junior Riding Club, and helping Thora O'Neil make 52 pairs of chaps for the members. Momma and Dad loved to dance, and in their later years they loved being snowbirds with Tom and Helen Larsen and Bill and Lois Peters. The greatest gift she possessed was the love and tender care she showed all her family as a mother, grandmother, great-grandmother and great-great-grandmother. Mom was a member of the Daughters of Utah Pioneers. She loved her Father in Heaven and our Savior and she served in many callings for the Church of Jesus Christ of Latter-day Saints. Her favorite was Head Librarian which was her last calling.
She is survived by her children, Norene K. Norton, Price, Ronda (Marty) Olson and Pam (Matt) Rauhala both of Wellington; 11 grandchildren, 28 great-grandchildren and 5 great-great-grandchildren; brother, Perry (Carol) Timothy; sister-in-law, Sally Timothy; relative and best friend Helen Larsen.
Preceded in death by her husband, Bruce D. Norton; infant son, Rodney Bruce; granddaughter, Carlene Olson; parents, Henry & Ora Timothy; step-father, Andrew Mortensen; sister, Sibyl Bowers; brothers, Art, John, Angus, Doyal and Reese Timothy.
Funeral service, Monday, June 3, 2019, 11:00 a.m., Wellington Stake Center. Family will receive friends at Mitchell Funeral Home Sunday evening from 5:00-6:00 p.m. and at the church Monday one hour prior to service. Interment, Wellington City Cemetery. Arrangements entrusted to Mitchell Funeral Home of Price where friends are always welcome and may share memories online at www.mitchellfuneralhome.net.