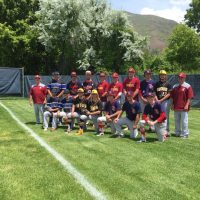 Photo courtesy of Mark Jones
On Saturday June 1 three players from the Carbon Dino and three members of the Emery Spartan baseball teams took part in the 3A All Star game at Spanish Fork. Ty Anderson, Anthony Jones and Collin Lewis represented Carbon High as part of the visiting team. Koda Alton, Kyson Stilson and Cade Brazier represented the Spartans as part of the home team. At the end of the day, the visiting team came out on the winning side 6-1.
For the Dinos, Ty Anderson went 0-4 with one strike out, Jones went 0-1 and Lewis went 1-3 reaching base on a fielders choice.
As for the Spartans Kyson Stilson was 1-2 with a single, Koda Alton went 0-2 and Cade Brazier came in later in the game as all three players were able to play in their final game as a Spartan.
This brings the high school baseball season to an end for both teams.
The Dinos ended the season 11-15 overall and 6-4 in conference ultimately losing to Manti 10-2 in the quarter final round in the one loss bracket of the state playoffs.
The Spartans went 11-13 overall and 8-4 in region play losing in the third round to Carbon 5-1.