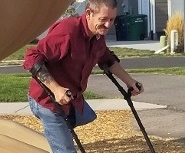 Eric Ross Hansen, 55, passed away on May 30, 2019 in West Valley City due to pulmonary embolism.
He was born August 26, 1963 in Price, Utah to Bonnie LaVon Newell and James Stanley Hansen.
Eric was fond of hunting, camping and fishing, and talked of these hobbies often. He also frequently reminisced on memories from his childhood in Price. He had a deep love for his children and was always concerned about their well-being.
He is survived by his three sons; Kody Hansen (Aubrie, Addalynn, Makenzie, Aaron), Jeffery Hansen (Amanda, Baxter), and Vincent Hansen; as well as his two daughters, Kaitlyn Hansen and Ruby Hansen; and his two siblings Cindi Block (Wayne) and James Hansen.
Preceded in death by his parents and his sister Teri Ann Hansen.
A graveside service will be held this Saturday, June 8, 2019, at 1:00 PM, in Price, Utah at the Cliffview Cemetery. Arrangements entrusted to Mitchell Funeral Home of Price where are always welcome daily an may share memories of Eric online at www.mitchellfuneralhome.net