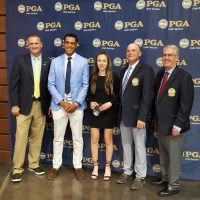 Photo courtesy of Karlene Bianco
Carbon High's Jordan Bianco was honored with an All-State First Team selection by the Utah PGA at Thanksgiving Point in Lehi on Tuesday evening where PGA Tour Pro and Utah native Tony Finau was the guest speaker.
Bianco led the Dinos to a fifth place finish in the state tournament shooting a 174 over the two day competition, which was enough to land her tied for sixth place in the individual ranks. Jordan has now been named to consecutive All-State First Teams.
Other Dinos receiving All-State honors were Sam King who was named to the second team and Aubrey Fausett who was given an honorable mention.
The Utah Section PGA extends the honor of First Team All-State to the top ten golfers in each classification, the next ten are selected to the Second Team, and the next ten after that are selected to Honorable Mention.
The Utah Section of the PGA of America has been actively supporting high school golf for over 25 years. Twenty years ago they developed the Utah High School All-State Golf Program. The All-State Golf selection process is unique among all-state honors programs in that it is all by the numbers. Thirty-five percent of a players best region scores and sixty-five percent of their state championship scores are used to rank each player.