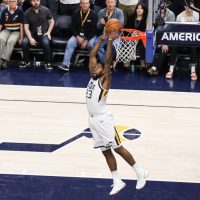 Utah Jazz small forward Royce O'Neale will be in the Castle Country on June 18, putting on clinic in both Price and Castle Dale.
O'Neale went undrafted coming out of Baylor University in 2015, and took his game overseas playing for two different teams. In 2017 he was invited to play for the Jazz on their summer league team, and was signed to a contract at the start of the 2017-2018 campaign. In his two seasons with the Jazz he has averaged 5.1 points per game to go along with 3.5 rebounds in 151 regular season games.
The two events are free to the public while both clinics will be open to all local youth. At the conclusion of the clinic O'Neale will be available for autographs and photos with attendees.
The clinic in Price will be held at the Carbon County Events Center starting at 1 p.m.. The Castle Dale clinic will be held at Emery High School beginning at 3 p.m..
For more information on the Price clinic contact Carbon Recreation at (435) 636-3702, for Castle Dale call Emery Recreation at (435) 381-3505