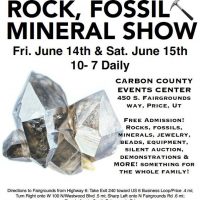 The 13th Annual Castle Country Rock, Fossil, Mineral Show is set to take place on Friday, June 14 and Saturday, June 15 from 10:00 am to 7:00 pm. The event is free and open to the public.
"There is something for the whole family. So what to expect if you were to go there with your family you could just go in and browse through each of the vendors and there is things for sale from $.50 up to $1,000.000 anywhere in between," said Event Director, Patrick Braun. "There's beads, there's minerals, jewelry, beautiful Ethiopian Opals, petrified wood, agates – wow, it's amazing there is a lot to see." Patrons will have an opportunity to speak with the vendors about their displays, plus observe several demonstrations throughout the show.
This event all began when Braun was teaching a silversmithing course at the local college and could see that there was a desire to learn more about jewelry and rocks.
"So my wife and I decided let's start a show and now this has been our thirteenth year. We've bounced around for a few different locations – the college and then over to The Elks and now the home has been the Carbon County Events Center for the past several years and we've had a great time," stated Braun. The Carbon County Events Center is located at 450 South Fairgrounds Road in Price.
For more information on the Castle Country Rock, Fossil, Mineral Show contact Braun at (435) 384-2211 or (435) 381-5192.