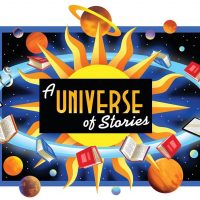 The theme for this year's Price City Library Summer Reading Program is called A Universe of Stories which will provide the entire summer full of activities and resources geared around science and technology.
"Our summer reading program has started, we're in full swing and last week was Blast Off week – it was great we had a lot of participants," said Library Representative, Tawnya Kulow. "We run our story hours during the summer the same. Storytimes are Monday and Wednesday at 11:00 am, Thursday at 1:00 pm." The Monday and Wednesday times are focused on toddlers and the Thursday gathering is open to older children up to third grade. There is also a group that meets every Thursday at 3:00 pm that is open to children 9 to 16 years of age whose stories and activities accommodate their age level.
"Along with our storytimes there's always an activity and we're following the Universe of Stories so some of our themes are robots, rockets and astronaut training and anything to do with space," said Kulow. These activities will be for the younger kids up to second grade. The older children, 9 to 16 years of age will be able to enjoy other activities such as design a moon garden, duct tape craft, make galaxy slime and enjoy a movie. All of these scheduled activities are a great way for children to use their imagination no matter what age they are.
The Kids Café is up and running and children are invited to stop by for a healthy snack. "We also have the Kids Café and that's a program that comes from the state food bank and it is for children under the age of 18 all children. It's just a free snack that the state provides that they send to us and we hand them out," explained Kulow. The café is open Monday through Thursday from 2:00 pm to 3:30 pm and is a wonderful way for children who are out and about to swing by the library for a quick treat during the summer.
To find out more about the Summer Reading Programs please visit the Price City Library Facebook page or call (435) 636-3188.