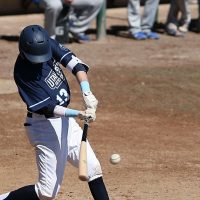 PRICE – Utah State Eastern Head Baseball Coach Scott Madsen announces that his program will be holding two camps in Price this Summer.
The camps will be held on June 25 and July 13 at Colosimo-Carlson Field, a mile north of the Utah State University Eastern campus.
Both dates are open to players that are currently in high school and recent graduates.
The cost of the camp is $50 per date with lunch being provided.
Camp check-in and registration will be at 9:30 a.m. and the camp will run from 10 a.m. to 5 p.m.
The camps will provide players with an opportunity to go through skill assessments as well as getting the chance to work with the USU Eastern coaching staff.
Those interested in attending must complete registration listed below, print and sign the waiver below, and pay via cash, card or check at the beginning of camp.
Athletes must also bring a current physical to the camp check-in.
For questions or interest in signing up for the camp, please contact Coach Kirk Haney at kirk.haney@usu.edu.