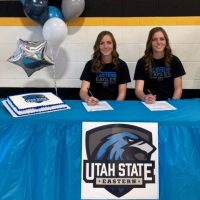 Three Emery High School student-athletes recently signed letters of intent to continue their athletic career at the collegiate level beginning in the 2019-20 school year.
Outgoing seniors Kacelyn and Kinlee Toomer signed National Letters of Intent to play basketball for Utah State University Eastern. Fellow senior Megan Jensen also signed a Letter of Intent to continue her basketball career at Utah Valley University.
Kacelyn Toomer, a 5-foot-10 guard, was a 3A All-State First Team selection as both a junior and senior. In 2017-18 she averaged 12-points, four rebounds and three steals in 23 games. In 2018-19 she posted averages of 13-points, five rebounds, three assists and two steals per tilt.
Kinlee Toomer, 5-foot-8 guard, garnered a 3A All-State Second Team selection as a junior, and a First Team selection as a senior. Playing in all 25 games for the Lady Spartans for two straight seasons, she averaged 12-points, 3.2 assists and three steals per game.
A dominating force throughout her junior and senior seasons, Jensen earned back-to-back 3A MVP awards as she helped lead Emery to three-straight state championship appearances. Despite seeing double and triple teams often throughout the season, Jensen averaged 16.4-points, six rebounds and two steals per game.
The three basketball standouts represent the group of Emery High School student-athletes who will continue their careers with athletic scholarships. Basketball season will begin for both USU Eastern and Utah Valley University this fall.