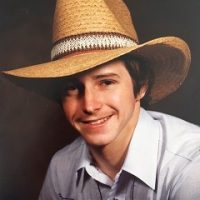 Bryan Austin Henrie, age 55, passed away July 5, 2019 courageously in the face of his illnesses and fought to the end.  Bryan was born July 9, 1963 in American Fork, Utah to Austin Wyler and Carolyn Golding Henrie.  Bryan married Terry Hysell on October 17, 1988 in Elko, NV and had two children, Winston and Lacie. They were later divorced.
Bryan loved to mechanic on vehicles and later worked for Price City for many years. Bryan loved the out of doors, camping, hunting, loved spending time with his family.  Bryan loved riding in local rodeos where he rode bulls and bareback broncs.
He was a member of The Church of Jesus Christ of Latter-day Saints and received his Eagle Scout award and his Duty to God award.
Bryan is survived by Son, Winston Henrie, of Mt. View, Wy, Daughter, Lacie (Stephen) Tallerico, of Fort Campbell, KY; Mother, Carolyn and Step-father Robert Newman, of Pleasant Grove, UT, Step-mother, Donna Henrie, of Mt. View, WY.  5 brothers, Brett (Stacy) Henrie, of Lehi, UT, Keith Henrie, of Pleasant Grove, UT, Steven Newman, of Draper, UT, Brazure (Kristy) Henrie, of Kemmerer, WY, Claude (Jill) Henrie, of Mt. View, WY. Bryan was preceded in death by his Father, Austin Henrie.
Funeral Services will be held Saturday, July 13, 2019 at Fausett Mortuary Chapel, 680 East 100 South at 11:00 a.m.  Friends may call at Fausett Mortuary one hour prior to services.  Interment will be in the Wellington City Cemetery.
Friends and family may sign the online guestbook and share memories of Bryan at www.fausettmortuary.com