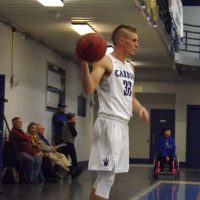 Five Carbon High School student-athletes have received scholarships to continue their athletic career at the collegiate level beginning in the 2019-20 school year.
Outgoing senior Ty Anderson recently signed a National Letter of Intent to play baseball in Price at Utah State University Eastern. A First Team All-State selection as a junior and Second Team selection as a senior, Anderson served as an anchor for the Carbon baseball team at shortstop. A key component defensively, he logged a fielding percentage of .820 and recorded seven double plays in 2019. At the plate Anderson ended with a .292 batting average and a team high eight triples.
Selected as a Second Team All-State member in 2018, football player Makade Bradley will continue his career at Southern Virginia University. A key member in the trenches on both sides of the ball, Bradley installed consistency at center for the Dinos throughout this past season. Pegged as a senior captain, Bradley played in all but one contest in 2018.
Girl's basketball player Jodi Noyes will move on to play at Lower Columbia College in Longview, Washington. Named to the 3A All-State Second Team in 2019, the 6'0" center/forward led the team in scoring with 12.6 points per game. Adding to a brilliant senior season, she also averaged eight rebounds and 2.2 blocks per contest.
Kaytlyn Cripps, an All-State First Team selection in 2019, will play softball in the upcoming season at Salt Lake Community College. Leading Carbon in multiple offensive categories, including home runs and RBIs, Cripps played pitcher and catcher throughout her career at Carbon. In 2019 she gathered a stellar .935 fielding percentage, while holding opponents to a .276 batting average from the mound.
Upon returning from his LDS mission in two years, outgoing senior basketball player Derek Hillam will continue to play locally at Utah State University Eastern. Delivering a standout senior campaign, Hillam averaged 19 points a game as he led the Dinos to the 3A State Playoffs. Proving his efficiency on both ends of the floor, he also averaged nine rebounds, two steals and two assists per game.