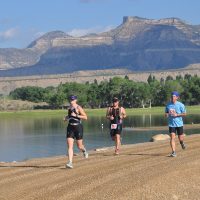 The Emery County Search and Rescue will host the 10th Annual San Rafael Classic Triathlon on Saturday, July 13 at the Huntington State Park.
Working as the main fundraiser for the county's Search and Rescue team, the San Rafael Classic Triathlon provides a family friendly and competitive atmosphere for multi-sport athletes of all skill levels and abilities.
"We have something for everybody, including the kids," said race chairman Wade Allinson on KOAL's Drive Time Sports. "We have a lot of out-of-state people, a bunch from the Wasatch Front, and of course Carbon and Emery County people who support the event."
Offering the typical triathlon events of swimming, running and cycling, the San Rafael Classic also provides different options for those interested in competing. For those not interested in swimming, the event will also host a Duathlon, which consists of running and cycling. For those who do not like to run, the event will also host the Aquathlon, which combines swimming and cycling.
Also unique to the annual fundraiser is the kid's event, which takes place on a smaller course. Each competition is also divided by age groups to even out the playing field. The entire day of competition takes place on a closed course, which is a rarity in triathlons.
"We are very unique in having a closed course to offer the participants" said Allinson. "Most of the triathlons are not able to close the roads or lakes for an event to happen. So the closed aspect is very unique to this event in itself."
On-line registration is currently open for all events at www.sanrafaelclassic.com. Registration will also be opened the night before on Friday, July 12 at the Huntington State Park Campground, approximately two miles north of Huntington, Utah on SR-10, at 6:00 p.m..
Friday night will feature a pasta dinner and music, also at the Huntington State Park Campground. The complete meal will come with all of the sides, and will be prepared in a three-foot wide dutch oven. The cost is $7.00 for adults and $5.00 for children.
"It really is just a great event and an exciting time," said Allinson. "It motivates a lot of people in the county to get out and work towards a goal of exercising."
The Emery County Search and Rescue team organized the San Rafael Classic Triathlon to help provide equipment and training for rescue team members. The Emery County Search and Rescue is a not-for-profit public service made up of 40 volunteers. The group is available 24-hours, seven-days a week, free of charge. The team itself donates thousands of hours of volunteer time on Search and Rescue missions.
For more on the upcoming San Rafael Classic Triathlon click HERE.