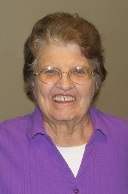 LaRue Watt Bate passed away peacefully Monday, July 8, 2019 in Provo, Utah. She was born January 17, 1937 in Price, Utah to George L. Watt and Norma Livingston Watt. She met her eternal companion William (Bill) Bate while both were working at Durrant Elementary as teachers. They were sealed in the Manti Temple on January 28, 1961.
Her early years were spent between Miller Creek on her dad's farm and Spring Canyon, until her family moved to California, returning at age 9 to Price. She graduated from Carbon High School, Carbon College and Utah State University and began her teaching career in Price, working at Durrant Elementary, Price Elementary and Creekview Elementary. She had great concern for her students and appreciation for all her coworkers.
She loved reading, music, the scriptures and of course the Hallmark Channel. She was a member of the Daughters of Utah Pioneers where she enjoyed many years of activity. As a member of the Church of Jesus Christ of Latter-day Saints she served in various callings, her favorite was teaching children in the Primary.
Her greatest joy was centered around her family, and her priority for her children and grandchildren to attend college. She had a great love for her brother and extended family members being able to share many memories of cousins, aunts, uncles and grandparents recalling their names and stories often.
She surely loved her family and is survived by her husband Bill Bate, five children, Allan (Sheri), Steven (Janet), David (Rachel), Sherrilyn (Jason) and Jadean (Craig), 18 grandchildren, 1 great grandchild, brother Ronald Watt (Barbara), brother-in-law Richard Bate (Mary), many cousins and dear friends.
Funeral service, Saturday, July 13, 2019, 11:00 a.m., Price Eleventh Ward Chapel (303 West 500 South Price).  Family will receive friends at Mitchell Funeral Home Friday evening from 6:00-8:00 p.m. and at the chapel prior to the services on Saturday from 9:45–10:45 a.m.  Interment, Cliffview Cemetery.  Arrangements entrusted to Mitchell Funeral Home of Price where friends are always welcome and may share memories online at www.mitchellfuneralhome.net.
In lieu of flowers please donate to Primary Children's Hospital.