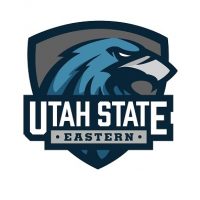 Jared Woodhouse, long time assistant under Ammon Bennett will be taking control of the men's soccer team at Utah State Eastern University when the school year begins in August. Woodhouse has been with the program since it's inception.
Current head coach Ammon Bennett will oversee the soccer program at USU Eastern, but will mainly put his focus into coaching the women's team moving forward. Recently both coaches were guests on KOAL's Drive Time Sports.
"He's super-smart, very organized, understands the game really well," said Bennett when asked about Woodhouse being the right person for the job. "He has a definite plan as far as what he wants a team to do."
Coach Woodhouse came to USU Eastern in 2014. He attended both Orem and Snow Canyon playing soccer for both schools. He then attended Dixie State where he continued his soccer career. He had prior coaching experience with club teams in Northern Nevada and Southern Utah.
Woodhouse is ready to take over the men's team and all the challenges that come with it. Top priorities include recruiting and making sure players so up in shape. They begin practices the first of August and they will play their first game on the 22.
"You're looking for a kid who has fallen through the cracks, you're looking for a diamond in the rough." said Woodhouse when asked about recruiting. "At the junior college level they really, really don't have time to grow if you need them to make an immediate impact."
USU Eastern's men's team went 8-9 last season, going 4-8 in SWAC play. A 3-0 loss to Salt Lake Community College in the first round of the conference tournament ended the team's season.
The men will have two scrimmage games in Price on Aug. 15 against Western Wyoming Community College, and again on Aug. 17 with Treasure Valley Community College.
Stay tuned to Castle Country Radio for updates on the soccer program as the season begins.
You can listen to the entire interview using the player below: