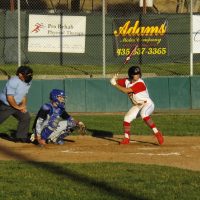 Two defensive gems led to back-to-back wins for the Helper Merchants Wednesday evening on the road against Springville.
Looking to keep control of the Central Division, Helper earned a 3-1 win in the first game of the night. The second contest ended in similar fashion as the Merchants kept Springville off balanced for a 2-0 victory.
Kade Dimick earned the win on the mound, allowing just six hits in the complete game effort. Despite the lack of run support from the offense, Dimick gave up just one run in a stellar outing.
"Kade threw a lot of strikes and battled the heat all day," said manager Dakota Cisneros. "This was a tough game for us. Our bats weren't there as we only had four hits, but we managed to find a way to win."
Offensively Kaleb Nelson was associated with each of the three runs for Helper. Finishing 2-3 at the dish he laced two singles, logged two RBIs and scored a run himself.
The struggles at the plate continued in the second contest, but Helper again found a way to come on top 2-0.
Jaxon Carlisle allowed just two hits in the complete game shutout. Displaying control throughout the seven inning tilt, he walked just three batters, making quick work of the opposition.
Cody Lowe helped awake the Helper offense as he finished 2-3 with two singles and one RBI. Nelson was again consistent in the box as he ended 1-3 with a RBI and stolen base.
"Our bats struggled again in this game as we only ended four hits again," said Cisneros. "Our biggest struggle right now is our hitting and it showed in both games. My guys are capable of much more than they are producing."
Despite the lackluster offensive performance, the two wins move Helper to 10-2-1 on the season, keeping them two games ahead of Salem Hills for first place in the division.
Now 3-0 since returning from the July moratorium, Helper will close out an extremely busy week with a home contest Thursday night against Herriman. Start time for the game is scheduled to begin at 6:00 p.m..