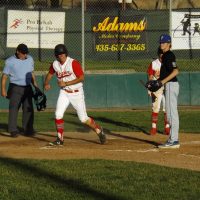 Fresh off back-to-back wins in Springville on Wednesday night, the Helper Merchants were back home to face Herriman in a quick turn around on Thursday night. After eleven innings, Helper was able to secure the 5-4 victory.
Cody Lowe pitched 6 innings giving up five hits and four runs while walking nine batters. He came back and pitched well after a very difficult first inning where Herriman scored three runs. Cayden Steele came in and pitched for innings seven, eight and nine giving up just one hit along the way. Nathan Richens entered the game in relief pitching the rest of the way giving up no runs or hits.
"Our pitchers did a great job against a great team," said manager Dakota Cisneros. "I thought we worked extremely hard all the way around, I was very proud of our defense and pitching."
Ty Anderson went 3-5 with three singles. He also came up big for the Merchants in the bottom of the seventh to score Kade Dimick to tie the game at four runs each. Cooper Schade was 3-5 from the plate with two doubles and two runs scored, including the wining run in the bottom of the 11th. Dimick went 1-4 with a monster hit off the light pole that some felt should have been called a home run, but was awarded a double. JD Powell went 1-3 with a big two out single in the bottom of the sixth that scored two runs.
"This was by far our most exciting game of the season," Cisneros said. "I'm very proud of my guys and that was a big win over a solid Herriman team."
This win moves Helper to 11-2-1 in league play. The Merchants will take to the field again on July 16 on the road against Pleasant Grove and then home for a double header with Salem Hills on July 17, start times for that match-up will be 6 & 8 p.m.