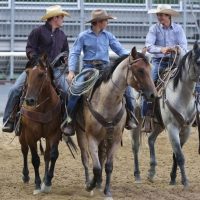 The Dinosaur Tire/Les Schuab Cowboys Memorial Rodeo will take place July 26 and 27 at the Castle Dale Fairgrounds.
Filled with events on both nights, the Cowboys Memorial Rodeo will be sanctioned by the Rocky Mountain Pro Rodeo Association. Both evenings will include all of the traditional rodeo favorites.
Entertainment this year will include the Barrel Buddy Races and Cowboys Memorial Rodeo Shirt cash prize drawing. Purchase your Cowboys Memorial Rodeo t-shirts at Dinosaur Les Schwab Tire Center in Price, or at JN Auto in Huntington. Those who wear their shirt to the event will have an opportunity to win $100.00.
All tickets for the rodeo will be general admission. Adult tickets are $10.00, kids 6-11 are $6.00 and kids 5-years or under are free. Concessions will be available, giving families a dinner option each night.
This year's rodeo sponsors include:
Dinosaur Les Schwab Tire Center, JN Auto, Johansen Herefords, Landon's Diesel Service, Castle Valley Supply, Emery Telcom, Mountainland Supply, Desertview Credit Union, Magnuson Lumber, J-O Bulls, Castle Country Radio, ETV 10 News, Castleview Hospital, San Rafael Works, San Rafael Travel Council, Farm Bureau Insurance, Castle Dale City, Robinson Transport, Grant Automotive, Barney Trucking, Hansen's Equipment and Big Mountain Lodge.
*Photo courtesy of ETV10 News.