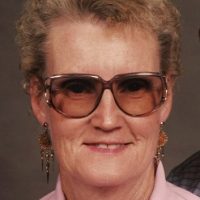 Sharon Gale Defriez Miles, age 80, died July 30, 2019 in Ferron, Ut. She was born in Hiawatha, Ut on May 19, 1939 to Warren and Leah Hansen DeFriez. Sharon married Mervin Miles on May 25, 1957 in the Manti LDS Temple.
Gale was a member of the Church of Jesus Christ of latter-day Saints. Gale's passion was doing genealogy for her family and many other families that needed help with their genealogy. Gale and Mervin served a mission at the family history center in Salt Lake City, Utah from 1997 to 1998.
Gale drove the Emery County Senior Citizens bus for all the activities for many years and enjoyed spending time with the group.
Gale and Mervin traveled the desert and they enjoyed camping and fishing. Gale and Mervin enjoyed square dancing and made every dance that they could and danced at the Stadium of Fire in Provo, Utah.
Gale is survived by her Husband of 62 years, two sons and one daughter, Mervin Lynn (Joy) Miles, Castle Dale, Ut, Richard (Bonnie) Miles, of Orangeville, Ut, Marie (Mike) Greenan, of Huntington, Ut. Also survived by 11 grandchildren, 14 Great-grandchildren, 2 brothers, Leon (Colleen) DeFriez, Stephen DeFriez, both of Castle Dale, UT. Preceded in death by a daughter, Marca Farnsworth.
At mom's request a Graveside services will be held on Friday, August 2, 2019 at 11:30 a.m. in the Orangeville City Cemetery.
Friends may call at the Orangeville Ward Chapel, 45 West 100 South from 10:00 a.m. to 11:00 a.m. prior to services. Interment will be in the Orangeville City Cemetery under the direction of Fausett Mortuary.
Friends may sign the online guestbook and share memories of Gale at www.fausettmorturary.com