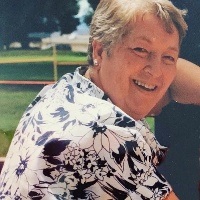 Marjorie Jean Pretiger Allred, age 78, passed away peacefully August 1, 2019 in Price.
She was born March 20, 1941 in Montrose, Colorado to John and Mary Applehanz Pretiger. Married Jerry J. Allred, June 6, 1959 at Notre Dame de Lourdes Catholic Church in Price. Margie was a devoted wife and caregiver who cared for her husband for ten years while he battled Alzheimer's. Jerry preceded her in death on April 5, 1996.
Margie was a longtime resident of Carbon County and a graduate of Notre Dame High School. She was an active member of Notre Dame de Lourdes Catholic Church where she was a Eucharistic Minister, Lector and an Oblate of Saint Benedict. Margie was a member of the Red Hat Society and a Pink Lady for many years. Margie worked as a bank teller at Key Bank in Price where she was employee of the year in 1988. She also worked for Zions Bank on Carbon Avenue and at the Smith's location where she was a branch manager. She enjoyed playing cards, handiwork and going to yard sales with her sister Helen. Margie will be dearly missed by all who knew and loved her.
Survived by two daughters and one son, Darla Cloward, Helper, Diana (David) Johnson, Price, Doug (Lynnette) Allred, Price; grandchildren, Jeremy, Shaylynn, Tyler, Taylor, Jordyn and Johnni; eight-great-grandchildren; sisters, Evelyn Pretiger, Clara (Sherry) Rutherford, Shirley (Franklin) Zupon, all of Price; brother, Johnny Pretiger, Castle Dale.
She was preceded in death by her parents; husband, Jerry Allred; sisters, Lucille "Lou" Winkler and Helen Guymon.
Funeral Mass, Tuesday, August 6, 2019, 10:00 a.m., Notre Dame de Lourdes Catholic Church. Vigil service, Monday evening, 7:00 p.m., Mitchell Funeral Home. Committal service, Price City Cemetery. Arrangements entrusted to Mitchell Funeral Home of Price where friends are always welcome daily and may share memories online at www.mitchellfuneralhome.net.