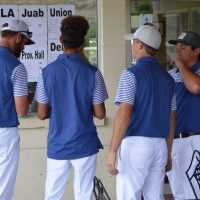 The Carbon Dinos extended their overall region stroke lead by claiming a five-stroke victory in the second Region 12 meet of the season Wednesday afternoon at the Cove View golf course in Richfield.
Freshman Bode Salas led the way with a 77 as the Dinos ended with a 320 team score. Richfield finished second at 325, followed by Grand with a 328. South Sevier, Emery and San Juan completed the field of six.
Brady Gagon's 79 helped lift Carbon with the third lowest score of the afternoon. Kaden Slavensky was right behind at 80, while Nick Olson registered the fourth score with an 84.
Individually Gagon and Salas are now currently tied for second, while Richfield's Jaren Anderson has captured a nine-stroke lead at the top of individual leaderboard. Slavensky and Olson both remain in the top ten.
With two meets now complete in region competition the Dinos now hold a 24-stroke over second place Richfield. Grand trails Richfield by six for second place, while South Sevier, Emery and San Juan all sit in the back half of the region.
The Region 12 season will continue for the Dinos when they return to the course on Tuesday, Aug. 13 with a trip to Moab Golf Club. The teams will then head to Millsite, the home course of the Emery Spartans the following week.
Below are the complete region standings heading into the third week of play:
| | | | |
| --- | --- | --- | --- |
| Team | Roosevelt | Richfield | Strokes |
| 1- Carbon | 317 | 320 | 637 |
| 2- Richfield | 336 | 325 | 661 |
| 3- Grand | 339 | 328 | 667 |
| 4- South Sevier | 413 | 359 | 772 |
| 5- Emery | 398 | 413 | 811 |
| 6- San Juan | 479 | 488 | 967 |
Individual
Roosevelt
Richfield
Total
1-

Jaren Anderson, RICH

77
72
149
2- Brady Gagon, CAR
79
79
158
2- Bode Salas, CAR
81
77
158
4- Rafe Saunders, GRA
85
75
160
4- Luke Williams, GRA
79
81
160
4-

Kaden Slavensky, CAR

80
80
160
4- Brennan Hunt, SS
81
79
160
8- Nick Olson, CAR
77
84
161
9- Sage Stroder, GRA
82
83
165

10- Jaygen Mullen, RICH

84
88
172