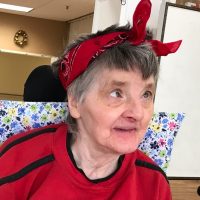 Kay Haycock, 73 died August 7, 2019 in Price, Utah. She was born in Price to Richard "Elvin" and Maude Elizabeth Hammond Haycock. Kay, aka "Katie-Bug" or just "Bug", passed peacefully at the home of her twin sister, Faye (Haycock) Landavazo.
Kay was special not because of her handicap but for the joy and love she brought to everyone who knew her. While she required total care throughout her life what she gave in return is immeasurable. Even though her physical condition deteriorated over the years she would often amaze and sometimes shock us with her awareness and a wicked sense of humor, that could include some um, "salty" language. Kay showed us that what matters in life in not who you are but what you are and how you treated her.
Most of her life was spend with her loving parents who made her their primary consideration. After their passing she was lovingly cared for by her special niece Debbie (Prettyman) Lister. After Debbie passed Kay was entrusted to the wonderful care of Parkdale Care Center where Faye visited almost daily to make sure Kay ate and drank properly. It was often entertaining to listen to the twins argue over what constituted proper eating, drinking, language and/or behavior. When Kay said, "nope, not gonna do it", Faye usually, but not always, won out. Kay loved car rides, Pepsi, nickels, purses, M&Ms and old-time County Western music and camping trips where she would spend hours gazing at the campfire. You could always get a laugh from her by playing "How much is that doggy in the window", "Rose
Colored Glasses" and "Honey won't you open that door". Her favorite toy was baby Bop which played "Jumping up and down in my little red wagon" until the batteries wore out or they mysteriously disappeared.
Kay was sealed for eternity to her parents and we know she is having a joyful reunion with them and other loved ones who have passed before. Her spirit is free from the bonds of her physical body and we can see her laughing dancing, singing and flying among the stars, making up for lost time. Our sadness is tempered by the knowledge and the assuredness that we will see her again.
Preceded from this life by her parents Elvin and Maude Haycock; brothers-in-law Bob (Peggy) Marshall and Gene (Beulah) Picco; sister-in-law Ann (Richard) Haycock; special niece Debbie Lister; grandparents; and various aunts, uncles, nephews, nieces and cousins.
Survived by sisters Peggy Marshall, Beulah Picco, and Faye (Don) Landavazo; brother Richard Haycock; and many other relatives, loved ones and friends. In lieu of flowers Kay would appreciate any donations to your favorite
charity in her name.
Funeral services will be held Tuesday, August 13, 2019 at 11:00 am at the Fausett Mortuary Chapel, 680 East 100 South, Price, Ut. Friends and family may call at Fausett Mortuary Monday, August 12, 2019 from 6-8 pm and on Tuesday one hour prior to services.
Interment will be in the Mt. View Cemetery, Helper, Ut under the direction of Fausett Mortuary.
Family and friends may sign the online guestbook and share memories of Kay at www. fausettmortuary.com